The Central Bank of the People's Republic of Bangladesh will issue a commemorative coin on the occasion of the 50th anniversary of the establishment of diplomatic relations between the country and Japan. Coins are minted from silver. The face value is 50 so. Bangladeshi is the official monetary unit and the only legal means of payment in the People's Republic of Bangladesh. The diameter of the coin is 35 mm, and the weight of silver in one coin is 20 g. The coins are made with the cooperation of the Bank of Bangladesh and the Japanese Mint.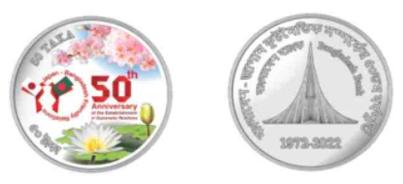 Two types of flowers are painted on the obverse of the coin - flowering cherry (national flower of Japan) and water lily (national flower of the People's Republic of Bangladesh). The drawings are made using color printing technology. The denomination of the coin is indicated in two languages ​ ​ - Bengali and English.
The reverse of the coin depicts a national monument that was erected in the republic in memory of those killed in the Bangladeshi War of Independence. As a result of long battles, Bangladesh was disconnected from Pakistan and became a sovereign state in 1971. Japan recognized the People's Republic of Bangladesh on February 10, 1972 and became its partner. Above, above the image of the memorial, an inscription is placed in a semicircle - "the 50th anniversary of diplomatic relations between Japan and Bangladesh" (in Bengali and English). Below, under the image of the monument, are the dates of cooperation between the countries - "1972-2022."